The following is an interview between KINDHUMANS
and DILF Host, Kevin Seldon:
Meet Kevin Seldon, the kind human who started The DILF (Dad I'd Like to Friend) Podcast to relieve the sometimes lonely landscape of fatherhood by connecting dads with each other. His podcast has become wildly successful, appealing to kind moms along the way. We're all fired up on Kevin's selfless motivations to reach out to humans in need.
Tell us about yourself, Kevin!
I was born and raised in Los Angeles and run a social-impact consultancy called Keldof that I started straight out of college. We've produced initiatives with clients like NBCUniversal, Vanity Fair, St. Jude Children's Research Hospital, The Legendary Roots Crew, and more.
I am an unapologetic hopeless romantic who's dreamed of being a father for as long as I can remember, however, after five years of struggling to get pregnant, I feared that dream would never come to fruition and I began to lose all the passion that made me the man I am. So when my wife and I finally learned that our little miracle was on the way, I decided to step back from work by taking an extended paternity leave to be home with my son for the first year of his life – which was as fulfilling as it was lonely. It's not always the most supportive world for stay-at-home parents – let alone stay-at-home dads. That's when I decided to create The DILF Podcast (as in Dad I'd Like to… FRIEND) in an attempt to connect with and support other dads that I respected and felt any parent would want to be friends with. To my surprise, the podcast struck a chord with not only dads… but moms. We recently ranked in the top 2% of podcasts worldwide, having broken onto Apple's Top 50 Parenting podcast charts in the US, Canada, Australia, Spain, Denmark, and France.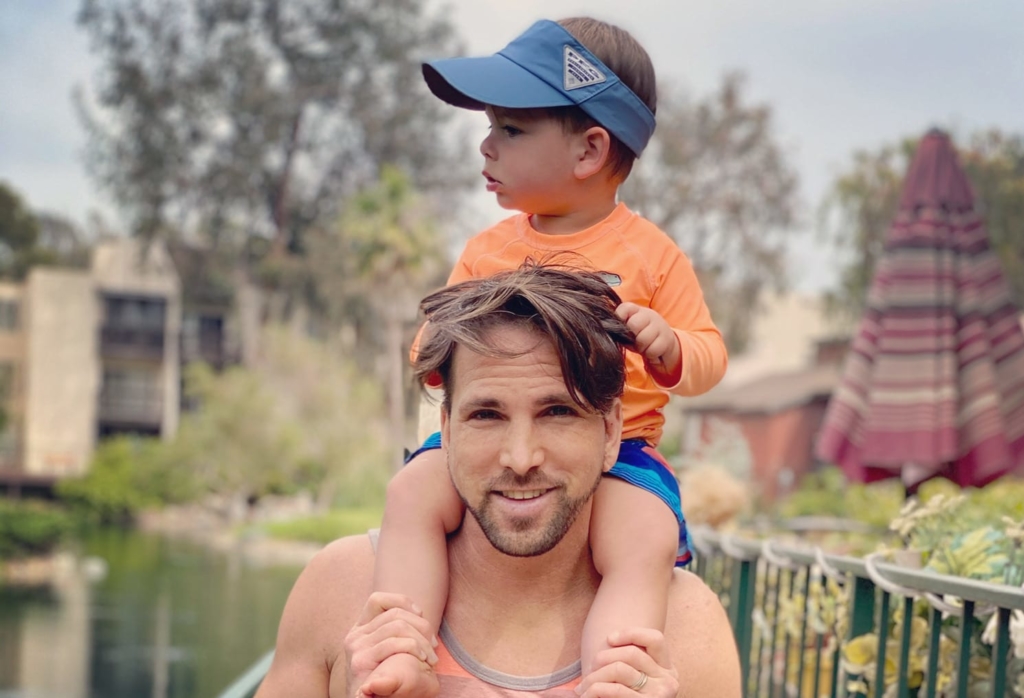 What is your definition of a kind human?
For me, a kind human is someone who selflessly puts the needs of others before their own — someone who reaches out when others, even strangers, show any sense of need.
What inspires you to be kind and give back?
Honestly, I don't really know any other way to live. My wife often warns me not to give advice or offer assistance unless asked, which is something I struggle with because some deep part of me simply wants to be of service to anyone in need. But I think it's more important to note that although giving back is extremely important, it does not always go hand-hand with kindness. In these turbulent times, I believe even the smallest acts of kindness can actually be a beautifully selfish act that helps us to regain some semblance of control over our own lives while simultaneously making the world a better place.
Name 3 kind humans who have positively affected you.
First, my father, who has a bigger bleeding heart than anyone I have ever met. He is someone who would risk his own life to assist a complete stranger in need.
Second, my friend Gavin, who was the first "dad friend" I made after my son was born and was such a supportive and kind soul that I invited (or rather forced) him to be the first dad I interviewed on the podcast.
And last, my son, who is only 2 years old but seems to simply understand others and their needs more than most adults I have encountered in my life. A while back, after a tough week, my son and I were coming home from the market. He was having a mini meltdown and I was carrying too much stuff. When we came through the front door, one of the grocery bags ripped open from the bottom and everything came crashing to the floor, including the apple juice which began spilling everywhere. A bit shaken, I knelt down and began to lose it a bit, but instead of being scared, he simply walked over and gave me a hug. That's what I call kindness. Just looking out for others when they are in need. I am proud to call that little man my son.