The following is an interview between ShoutOutLA
and DILF Host, Kevin Seldon:
Hi Kevin! We're big fans of the podcast. As a parent, what do you feel is the most meaningful thing you've done for your son?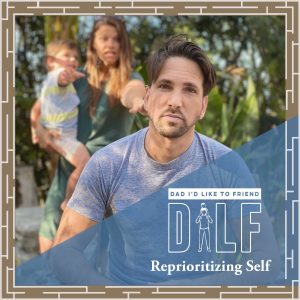 For me, the most important thing I've done thus far as a parent, in terms of impact on my son, is working to connect with other parents to build a support network that has my back as a father. I've wanted to be a dad for as long as I can remember, but when my time finally arrived, there were very few resources available to me as an expectant dad. And when the baby finally came, I felt like I was starting at a disadvantage – still healing from the PTSD of five years struggling to get pregnant and our strenuous high-risk pregnancy… plus, the lack of an instant bond my wife seemed to have with our son. I believe building a support network of both dads and moms is crucial – people who are going through the same ups and downs; a tribe to vent to, to laugh with, to learn from, to help out when I need an hour to myself (especially during quarantine). That outlet of support allows me to be the best version of myself for my family, as well as center myself so I retain a sense of calm during those difficult moments, but also remain present enough to enjoy the awesome ones.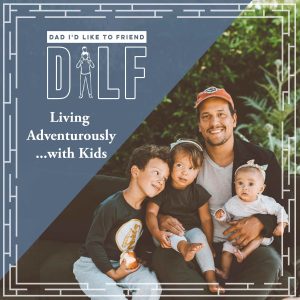 Let's talk shop? Tell us more about your career, what can you share with our community?
I've never been one to follow a traditional career path. After college, I returned home to LA to focus all of my energy on making a positive impact on the world… without any real idea of how I was going to accomplish that lofty goal. With the many distractions LA has to offer, I quickly found myself as a mechanical bull operator on the Sunset Strip, which shockingly did not help me with my endgame. Next, I made the choice to stop wasting time and take the leap to launch my own social-impact consultancy called KELDOF. My parents thought I was crazy, but within a few years, we were a leader in the cause-marketing space with clients ranging from NBCUniversal and Vanity Fair to St. Jude Children's Research Hospital and The Legendary Roots Crew. Everything seemed to be going according to plan, but that soon changed.
As my professional life blossomed, my personal life was slowly falling apart as my wife and I struggled to get pregnant. After five years of failed attempts at starting a family, it began to take its toll and I was admittedly left a bit broken – working to inspire passion in others while devoid of any in myself. So, when we finally learned we were pregnant, I made the difficult decision to take a break from my professional life in exchange for an extended paternity leave, becoming a stay-at-home dad for the first year of my child's life. The experience was as inspiring, as it was exhausting and lonely. It's not always the most supportive world for stay-at-home parents – let alone stay-at-home dads. However, that dedicated time allowed me the space I needed to not only bond with my son, but heal. It wasn't long before I found myself laughing again, and reconnecting with my friends, my wife, and myself. As the year came to a close, I also rediscovered my passion and decided to create a new social entrepreneurial branch of my company. As one of our first projects, I launched a podcast as a forum to tear down the walls that typically leave men out from engaging in honest + vulnerable conversations about parenting, featuring inspirational-yet-relatable stories from the often underestimated perspective of a DAD. The goal was to create conversations with dads whom I felt any parent would want to be friends with… which is where the name of the podcast derives: DAD I'D LIKE TO FRIEND, aka The DILF Podcast.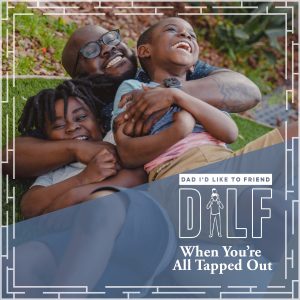 To my delight, the podcast struck a chord with not only dads but moms, and was recently featured by
People Magazine
, as well as ranking in the top 2% of podcasts worldwide – having broken onto Apple's Top 50 Parenting Podcast charts in the US, Canada, Australia, Spain, Denmark, Ireland and France.
As we gear up for season 2 (season1 is presently available wherever yo
u get your podcasts), we will continue working to build a support network for parents – no matter their gender – like the one I so desperately longed for when I first entered the world of DadLife.
One of the goals of my life has always been to thrive professionally while living a happy and fulfilled life, and I now know that one of the only ways to achieve this rare combination is through authenticity. I am truly proud to have built a number of brands that I wholeheartedly believe in. It's not always easy to follow your heart professionally, but at the end of the day, if you follow through and do your best to stick to the core of your vision… at least you'll have something you can be proud to show to your children. And in my opinion, those projects are the only ones that are worthwhile and have any chance of making a positive impact on the world.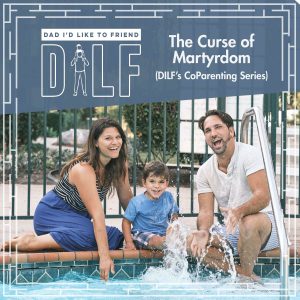 Who else deserves some credit and recognition?
I'd like to give a shout out to my wife and co-parent. It's rare to find a partner who supports you when you tell her that you want to take a year off from work and the career you've built over the past decade to become a stay-at-home dad for the first year of your child's life. We were each forced to make some major sacrifices, but she stood by my side through the ups and downs… and even tolerated those moments when I embarrassingly attempted to tell her the way things "should be done" because of systems I had set in place, rather than allowing her the space to figure out her own solutions. And, of course, for joining me on The DILF Podcast's Co-Parenting Series – it's quite an ask to sit down with your husband to vulnerably discuss your marriage and co-parenting ups and downs on a public forum, but her bravery has allowed us to reconnect, learn from our mistakes, and exemplify the best version of ourselves for each other and our son.